If you dream of making real money, the kind of income that not only gives you financial freedom but also lets you travel, spend time with your friends and loved ones and have peace of mind, then this guide is for you. 
This is not a get-rich-quick scheme or a get-rich-with-no-money-down scheme. This isn't about multi-level-marketing or ways to trick and exploit others into giving you money. This guide describes proven, reliable ways to start an online business and grow it into a large income stream, in a way that protects your reputation and your integrity.
It is hard work and requires time and financial investment, although we will cover ways to minimize that investment and reduce startup costs where possible. If you want to start making $100K per month next month, this isn't the guide for you.
This guide is for those who want to start a legitimate business and make money online, or for those already who have a business and are ready to expand. It describes how to use commonly available tools and resources to start and grow that business, and then turn it into long-term, high-dollar, residual income that lets you spend your time however you like.
This guide explains how to leverage the power of Amazon, the world's largest marketplace. Amazon sold roughly $43.74 billion dollars' worth of products in just the third quarter of 2017 and accounts for 43.5% of retail e-commerce in the United States. During the 2017 holiday season, 45-50% of all products bought online were through Amazon (source: https://expandedramblings.com/index.php/amazon-statistics/).
Not only is Amazon too large to be ignored, it also represents a massive opportunity for entrepreneurs. Thanks to Amazon, an average person can now make their products available on the global marketplace without investing in a retail storefront property, inventory warehouses, shipping costs or the labor costs of owning and operating a retail location.
Selling on Amazon gives merchants access to the millions of people who regularly use the Amazon website, Amazon app and Amazon home services to purchase products. Finally, new businesses can benefit from the established and trusted Amazon brand name that allows customers to feel confident about their purchases.
There are other ways to market and trade products online, notably Etsy, eBay, and Shopify, but this guide focuses on Amazon for two reasons: the sheer scale of their reach and presence in the online retail world, and the many ways that Amazon enables people to make money online.
Using Amazon, you can not only sell products but also take advantage of their affiliate program, self-publishing platform, suite of media, mobile and home automation services and more. It presents the biggest and most versatile set of opportunities for entrepreneurs.
Finally, this online guide follows the proven, reliable and reputable CES model described in greater detail in Jim Cockrum's bestselling book Silent Sales Machine https://silentsalesmachine.com/.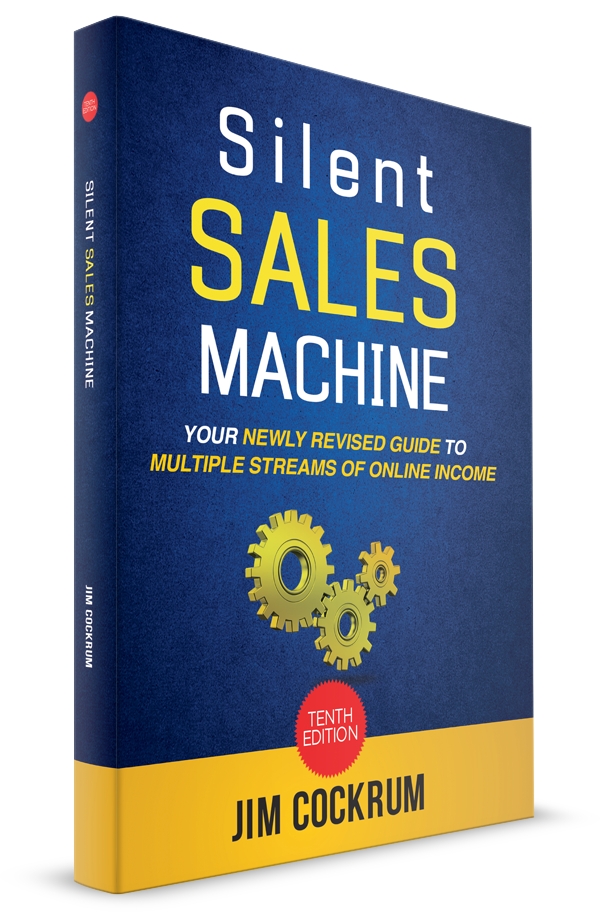 For more than 15 years, Jim has been helping online retailers and entrepreneurs learn how to be successful and generate high incomes from their online businesses.
Recommended To Read: Amazon Success Story: How One Man Built a $10k Per Month Amazon FBA Business in Less Than 4 Months
Step 1: Research
Find your niche
The first thing you need to do is to identify what products your business will specialize in. You need to find your niche. It could be a product you have designed or invented and have manufactured according to your design. It could be a product that already exists but could be made more widely known and available. It might involve finding products from one source for resale through another outlet, like antiques, used books, or vintage clothing. The right niche market will meet these criteria:
High consumer demand.

You need to sell a product that people want or need.

Low competition.

You need to sell a product that isn't widely available elsewhere.

Suits your passion, interests, or occupation.

Some would say this last aspect is optional but being interested in a product will help you become an expert and thought leader in your industry and forge connections with buyers and customers who are also passionate about it. It is best if you are authentically engaged in the products you offer.
There are millions of product niches out there, but they can be difficult to identify. Here are some ways to help you get started:
Make a list of your hobbies, passions, and interests.

Are these things that you have researched and read about online? Are they things that you have spent money on? If you have hobbies and interests that you have searched for and spent money on, chances are good that there are other people doing the same.

Note your problems.

Carry around a notepad (or just make quick notes on your phone) and be attentive to and write down everything you think could be different or better. Do you wish your favorite apps had a new or better feature or function? Do you always misplace particular items or forget things you need? Are there ordinary things that you wish took less time, were more streamlined or were improved? Again, if you notice these little things, you probably aren't alone. Brainstorm the daily stuff you wish could be changed for the better.

Research trends.

Get online. Look at categories and subcategories of products on Amazon to drill down to small niche markets and see what is there. Look at top-selling products on Amazon, and then do keyword searches online and on social media to hear what people are saying about it. Look for comments and notes like "I love X, but wish it did Y", or "I would buy X, but…". Read ratings and user reviews, look for online forums and user communities. Look for trending topics on sites like Google, Yahoo and Twitter. Spend some time getting familiar with the products people are using, buying and talking about.
These are just some of the ways you can identify opportunities and unmet needs. Spending days, weeks or months doing this research and thinking in this way will help you see opportunities for new niche products that speak to a particular audience or meet an unmet need.
Think about how you can add value to your product. For example, you might sell products that are available elsewhere, but you can add value by making them the best, most effective, fairly traded, allergen-free, ethically sourced, longest lasting etc. Your niche might be to simply curate your brand and your products to better appeal to the needs of your customer.
I also recommend this resource:How to Use Amazon to Find Your Next Profitable Niche In Less Than 30 Minutes
Here are some more resources to help you find your niche:
Find a source of inventory
If you are able to identify a product that you want to provide in an area where there is an unmet need, you then need to find a supplier of that product. Now you need to research suppliers to determine how profitable that niche might be. The Chrome extension RevSeller (http://revseller.com/) lets you look up products on Amazon and see the sales rank, ROI, margin and expense details, so you can research what the costs and markups are for comparable products and your competitors.
If you are thinking of selling food items or supplements, baby products, or adult items, there may be government regulations concerning how these things are manufactured, sold and marketed. Research any regulations that may apply to your products, your packaging, and your marketing. You need to find suppliers who can comply with all necessary regulations that apply to your service and your products.
I also recommend this resource: How To Find a Manufacturer or Supplier for Your Product Idea
If you're like most people, you won't have a lot of experience identifying wholesalers or manufacturers. Your needs will depend on your niche, but here are some ways to get started:
Search for private label suppliers.  Private label suppliers are wholesalers who will put your label on their products.
Search existing wholesalers. http://provenwholesalesourcing  Sites like www.alibaba.com offer thousands of wholesale products to resellers around the world.
Here are some resources to help you identify good sources of inventory:
Product Sourcing Master Class

http://productsourcingmasterclass.com
This master class teaches 30+ proven ways to source high-profit products to sell on Amazon & eBay. Learn how to buy cheap and sell high from what might be the most comprehensive course on product sourcing on the web. Dave Espito and Jim Cockrum give your 4 hours of the best training to ignite your passion for profitable sourcing. 

Recommended To Read: The Daily Thoughts Of A New Amazon FBA Seller!

Proven China Sourcing

http://provenchinasourcing.com
This course shows how products can be imported straight from manufacturers in China and increase your profit margins. Learn how you get access to dependable suppliers, contact manufacturers directly, obtain incredible deals, clear customs, avoid being ripped off and much more. This guide is continually being restructured with the most up-to-date and pertinent information, and when you buy it, you will get all future restructured versions free of charge! 

eBay to Amazon Arbitrage Guide

http://ebaytoamazon.com
This hands-on training will show you precisely how to use eBay to find money-making inventory for your Amazon business. Simon Charlton shares how you can build your own lucrative Amazon business by sourcing the best inventory on eBay for low prices. Learn which categories and products are most the profitable and how to save money on shipping, build relations with eBay sellers and more. 
Plan your fulfillment process
In a conventional retail store, items are ordered in large quantities from wholesale suppliers then stored in a warehouse or back room, while some are placed in the retail space to be sold to customers. Think about how your store will work. If you order products in bulk, where will they be kept? When customers buy them, who will ship them? Storage and shipping costs will impact your profits, so think through the process and the costs before making any final decisions.
Remember that e-commerce also costs money. Most sites and services charge processing and transaction fees. Will your e-commerce platform calculate and account for potential taxes the customer may owe?
Many businesses in the Amazon marketplace choose to use Fulfillment By Amazon (FBA). This service stores your inventory in Amazon warehouses where their employees pick, pack and ship your products to your customer. This allows your products to qualify for Amazon Prime and your customers to use Amazon to process returns.
It is the fastest and easiest way for new businesses to manage the fulfillment process, but it is not free, and items that are stored for long periods without selling cost you money every month. For many sellers, FBA is the simplest and most cost-effective way for sellers to manage goods on the Amazon marketplace, but it may not be right for your niche, so do some research and make the best decision for you.
Here is an image showing you how does Amazon FBA work:
Amazon has provided this handy calculator (https://services.amazon.com/fulfillment-by-amazon/pricing.htm) to compare their fulfillment costs with other alternatives, which is a great place to get started.
I also recommend this resource: Building an order fulfillment workflow plan
You should now have a realistic, well-informed business plan that covers:
What products you intend to sell

What the market demand is for those products

Realistic projections of how much product you anticipate selling

What it will cost you to purchase those products

What your costs will be to store, market and distribute those products

What competitors charge for comparable products

What you will charge for your products, considering all the above factors
As with everything in life, there will be unexpected factors and things won't go entirely according to plan. But you are now as well-prepared as possible to start your own profitable business and make money online.
Recommended To Read: How Much Inventory Should You Buy At One Time For Your Amazon Business?
Step 2: Open Your Store and Begin Marketing Your Products
Become a seller on Amazon
Signing up for your Amazon seller account is a fairly straightforward process, but expect the full process of configuring your store to take a long time.
I also recommend this resource: How to Become an Amazon FBA Seller
Every product you sell will need to have a complete written description and several accurate and attractive photos. Video product descriptions and demonstrations are even better. You want to make it as easy as possible for potential customers to find your product when searching, so make sure that attractive photos and accurate headlines encourage people to click on your product in their search results, and then show and describe the features they are looking for in the product description.
Amazon has many support resources for sellers because they want your store to be successful. They have a wide array of training and tutorials, and it's best to spend time going through all of them to really learn the platform so you can use it to its fullest.
Recommended To Read: Amazon Owes You For Damaged Inventory! Get It Back…
Market Your Business
Don't make the mistake of thinking that all you need to do is start your business and sales and success will follow. Not only will you not make a livable income without marketing, but your business is practically guaranteed to fail without it. In fact, with Amazon doing so much of your day-to-day business operations, marketing is what you will spend most of your time doing.
If you are new to business and just starting out, you can begin by doing your own marketing. Your marketing endeavors should start with:
A blog or website


On your blog or website you can tell your customers about yourself, explain your expertise, passion and experience with your products. You can give longer, more detailed product reviews and demonstrations and perform product comparisons. You can also give more background about suppliers, components or features to help customers choose the right product for them.

Your website is important because it helps customers find your products outside of the Amazon marketplace. If people are searching for information on Google or their favorite search engine you want your products to be searchable and findable everywhere online.

Social media


There are a lot of social media networks, and you don't have to be equally active on all of them, but you should have accounts on all of them. Setting up accounts on every social media platform helps you get the account name that applies to your business and helps customers connect with you on whatever platform they use.




A Facebook page is a must, and during your research phase you probably identified the other social networks where people are most actively using or talking about products like yours. Be most active on the platforms where your potential customers are.

Your social media presence is important because it builds authentic connections with your customers and helps them find you and your products. But the point is not to simply aggressively sell products: engage with people and participate in their conversations. Authenticity is important, and people don't like being bombarded with marketing messages.  (Proven Audience Formula can help you too: see the images below) Image1 uses the old way of advertising: Image2 uses the Proven Audience Formula way of advertising:

Email marketing


Email marketing is a valuable tool for promoting your products. Offer visitors to your website a chance to sign up on your email list and periodically send them news about your products or special offers and coupons.

Your email list is perhaps the most valuable marketing resource you have because the people on your list are interested enough in you and your products to have opted in to your marketing efforts. Never abuse them with spam or take them for granted, because they are the people most likely to love your products, review them positively and recommend them to others. I also recommend this resource:10 Ways to Market Your Small Business on a Shoestring Budget

 
For more information on email marketing and how to use it to grow your business, here's a great resource:
List Building Class

http://listbuildingclass.com. Learn how to boost your email list and add clients to your business. Communicate to thousands of loyal fans with the internet's most dependable tool: email. With this course, you will learn how to use eBay, various email management platforms, and social media to grow your list. It also has guidelines on how to produce high-quality content, build authority with your clients and more. 
This is a very brief description of the different facets of online marketing. Marketing requires a lot of time, study and practice to learn to do well. Remember that you will engage in marketing activities daily: post new content to your blog or website at least twice a week, check and participate in social channels at least once a day, and send a newsletter to your email list once or twice a month.
You will also need to actively monitor customer feedback on your Amazon pages, ensuring that reviews are positive and helpful and trying to correct any problems or negative experiences your customers may have. On Amazon, positive reviews are the most powerful marketing tool on the platform, so do everything you can to provide good experiences and create positive feedback.
Recommended To Read: The Top 5 Ways We Source Inventory For Amazon FBA
Step 3: Stabilize and Expand
Grow Your Business
Remember, this isn't just a guide on how to make money online. It's about making big money, and you can't do that alone. A business run by yourself, or yourself and a partner, can only grow as big as your own ability to manage it. Once you've mastered the basics, you need to grow your business beyond your personal limits. You can do this in several ways:
Expand your offerings


By now, you may have noticed that customers who buy X from you might also buy Y. Consider growing your range of products to meet a greater proportion of their needs.

Seek partnerships. If there are other sellers (perhaps even competitors!) who might be a good fit for your business and your customer, consider reaching out and forming a partnership. Perhaps you could combine products from both stores into a single bundle, coordinate marketing endeavors, or promote each other's products with special discounts.

More powerful marketing


There are several methods to increase the reach and effectiveness of your marketing:

Advertising.

You can invest in search engine ads or social media promoted content to reach more customers than you have been.

Affiliates.

You can use affiliate networks and pay commissions to others to sell your products.

Go professional.

You can hire professional photographers, writers, designIers or video production professionals to take your marketing materials to the next level.

Reduce costs to increase profits.

Once you're selling a high volume of products, it should be possible to reduce some of your costs. Here are some ways to do that:

Lower inventory costs.

If you are able to buy in greater volume, you can reduce your unit costs. Shop around again for suppliers and see if you can get better pricing.

Lower fulfillment costs. Review your fulfillment plan and see if it still works best for you. Shop around and give other fulfillment providers the opportunity to give you a competitive bid to save you money. I also recommend this resource: 15 Ways to Grow Your Business Fast
As these efforts begin to bear fruit, you will also need to grow your business internally. You may need to hire an accountant or bookkeeper, or an administrative assistant to look after your social media accounts and online customer interactions, or a manager to oversee suppliers and inventory levels. Your ability to delegate and make the business self-managing and self-sustaining is what allows you to have the free time to enjoy your income and pursue other things.
Recommended To Read: 5 Important Things To Do (Or NOT Do) In Your Amazon Follow Up Emails
Step 4: Teach and consult
Leverage your expertise
Teaching and consulting is not only a great way to give back and contribute to the community, but it also adds another source of passive revenue that generates income over time. Thousands of people want to learn what you now know, and you can spend your time helping others and earning money online while you are at it.
I also recommend this resource: The 3 Rules to Leverage Your Expertise and Increase Your Cash Flow
Consider writing a book to inspire and inform others:
Proven Self-Publishing

http://provenselfpublishing.com

. Get known for your knowledge by becoming a published author. This course will show you how to self-publish and how to produce a good marketing strategy, grow your brand, become familiar with the book industry and how to get into the traditional book market. Learn how to publish your books with Kindle Direct Publishing, Createspace, Audible and iTunes.
Create courses and lessons for online schools:
Proven Teaching Income

http://proventeachingincome.com. This course will show you how you can take your expertise and skills and make money be publishing online courses. Learn how to create tutorials and distribute them on Udemy. Learn various ways to earn money with Udemy and make a full time or part-time income. 
There are hundreds of Amazon success stories (link: https://services.amazon.com/stories.html) and you could be one of them, enjoying owning a business that makes 100K or more every month and earns income even while you sleep. Follow this step-by-step guide to reach your goals and live the life you've always wanted.
Recommended To Read: The 5 Most Popular Ways To Start (or Grow) An Amazon Business